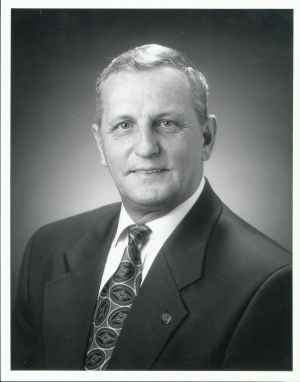 Roger Klamfoth
After joining the ApHC in 1960, Roger began to raise Appaloosas at the family farm in Groveport, Ohio. Roger assembled his broodmare band of some 40 mares and set his sights on the Bright eyes Brother line of Appaloosa horses. In 1964, Roger purchased Mighty Marshall, a son of Mighty Bright.
Mighty Marshal was shown extensively for two years, winning a National championship in halter and a World championship in pleasure. A proven producer, "Marshall" lived to be 30 years old and filed 27 consecutive years of stallion reports.
Roger's involvement in the horse industry reached beyond the boundaries of his farm. He retired from judging after 40 years with credentials that include numerous National and World Shows, 777 breed shows and events in 11 other countries.
Roger was an ApHC inspector from the program's inception and managed the National and World shows for many years. From 1989 – 1992, he served as a director for Territory V.
In 1992 Roger became the executive secretary of the Appaloosa Horse Club in Moscow, Idaho, from which he retired January 1, 2004.