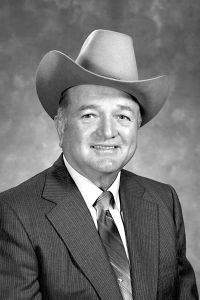 Leland "Lee" Warne
An Appaloosa Horse Club member since 1958, Lee Warne pioneered the Appaloosa breed in South Dakota. The 1950 stallion Bambi E. introduced Lee to the Appaloosa breed. Lee went on to breed Bambi E. to form the Sully line of Appaloosas.
Lee was actively involved in the Appaloosa industry until his death March 8, 2002, breeding and raising Appaloosas such as Sully B., Sully's Lancer and Sully Rebel Star, along with many other state, regional and National champions. His horses were known for their loud color, refined heads, quiet dispositions and athletic prowess. The list of Warne-bred Appaloosas, numbering 624, competed successfully in events as varied as cutting, reining and halter.
Many countries have imported Warne-bred Appaloosas, and many of these horses have gone on to earn international championships. Sully's Lancer II became a leading sire in Australia.
Lee helped establish the Center of the Nation Appaloosa regional club in 1961, putting the Appaloosa breed on the map at a time when the breed was relatively unknown in many parts of the country. In 1982 Lee earned a bronze medallion breeder award and in 1988 was inducted into the South Dakota Agricultural Hall of Fame. He also received decorations and battle citations for his military service.