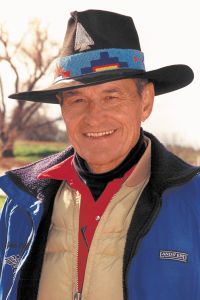 John D. Corpolongo, D.O.
Dr. John Corpolongo of Jay, Oklahoma, has been a mainstay of the Appaloosa Horse Club-sponsored trail rides for nearly 40 years. Serving as the official ride physician on all four rides for most of those years, Dr. Corpolongo has administered medical services on 81 of the 88 rides heís attended.
An osteopathic physician and surgeon for more than 45 years, Dr. Corpolongo specializes in family practice and general surgery. Heís served as president of the Kansas State Osteopathic Association and the Governorís Commission Kansas State Emergency Medical Service.
After 25 years of private practice, Dr. Corpolongo now does locum tenens for six medical and osteopathic family practice physicians between trail rides. He serves as the official trail physician on 10 rides throughout the year including the four ApHC-sponsored rides.
A 1995 Trail Ride Hall of Fame inductee, Dr. Corpolongo gets the greatest satisfaction from helping others while enjoying time spent with his Appaloosas on the trail.