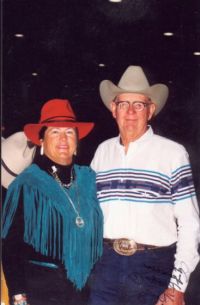 Henning and Suzanne Koch
Henning and Suzanne have been involved in the Appaloosa industry for more than 40 years, and have experience with nearly every segment of the breed. Suzanne has served the ApHC and the Appaloosa industry for many years, predominantly in the state of California. She helped form the Cal-Western Racing Association and has served as a charter member and Board Director for Cal-Western Appaloosa Association. Together Henning and Suzanne have actively competed in Appaloosa shows, open shows, endurance riding, racing and rodeos.
Henning and Suzanne were previously honored when their Appaloosa stallion, Double Or Nothin, was inducted into the ApHC Hall of Fame in 1997. According to ApHC records, Hall of Famer Double Or Nothin has sired 119 foals who have earned 44 bronze medallions. They are diverse in their talents as winners in barrel racing, pleasure, reining, roping, cattle classes and racing. His get have earned more than 2,132 performance points, 10 Performance Superior Event Awards and six Versatility Championships.