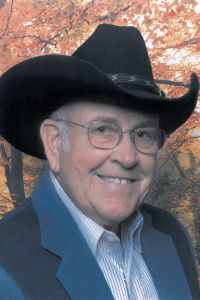 Dean Alexander
Dean Alexander has spent his lifetime raising and promoting Appaloosas. Dean's name is most often associated with the 1989 Hall of Fame inductee Cherry's Leader. Through this stallion, Dean impacted the Appaloosa breed by producing a long line of great cow horses.
Cherry's Leader competed successfully in halter, cutting and roping, earning nine World and National titles and six reserves. He went on to sire winners in both the race industry and the show pen. He sired 127 registered Appaloosa foals that earned 10 bronze medallions and three superior achievement certificates in addition to race earnings of more than $5,200.
In addition to breeding 147 registered Appaloosas, Dean has earned thousands of top trophies for wins and championships on the local, regional, state and World levels. He won multiple Appaloosa cutting futurities and maturities at ApHC World and National shows as well as six consecutive Texas western pleasure championships and the World western pleasure championship. He has also won championships in halter, reining and roping.
Dean has judged horse shows for many years and coached 4-H judging teams that went on to win national judging championships. He also authored articles for the Texas Horseman, Appaloosa Journal and a number of local publications.