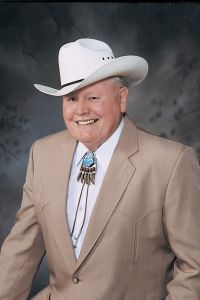 Bill Cass
Bill Cass is best known for his association with Hall of Fame stallion Colida. Bill lead the stallion out of obscurity and suspicion into an award-winning breeding program on his Circle Lazy C Ranch in Welch, Oklahoma. Colida became the National grand champion stallion in 1963, two years after Bill bought and registered him. He won get of sire at the National Show in 1967 and earned third place in 1970.
Bill has bred more than 300 Appaloosas and owned more than 270 since he joined the Appaloosa Horse Club in 1957. Most of his horses come directly from the Colida bloodline, including IíM A Copino Too, Frosty Will, DM Sure Will, MS Miss Kitty, Colidas Happiness, Imadocs Happiness and Ima Colida OíLena. Bill continued to win in the show pen even after he retired his stallion to the stud barn in 1982. He also became one of the earliest exporters of Appaloosas, sending them around the world.
During his 40 years of involvement with the Appaloosa, Bill has mentored countless breeders from his region and stood out as a leading breeder.